Gibt es eine Schönheit der Revolution?
Ein Text von: Lisa-Marie Berndt
Gelesen von: Anna Velhorn
Musik von: Abdur Rehman
Is there beauty in a revolution?
Written by: Lisa-Marie Berndt
Read by: Luke Swenson
Music by: Abdur Rehman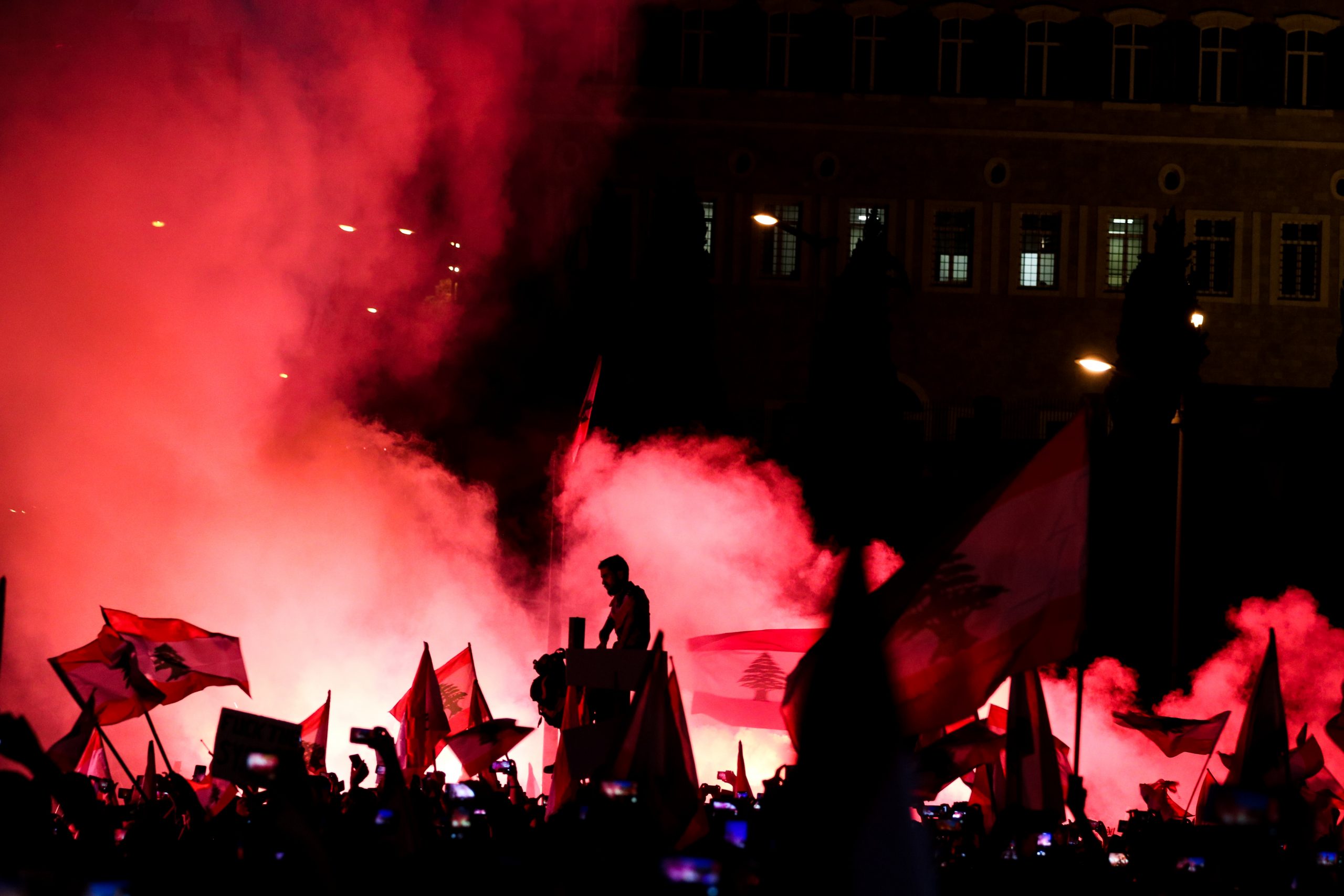 rosarote rauchschwaden
rot       farbe der revolution
vereinzelt hände
fahnen              gesichter
nächtliche straßen
nächtlicher libanon
kein gang in die kirche
ein gang auf die straße
muezzin der revolution?
papst der revolution?
der mensch als dj        er spielt die                    revolution
handys        erinnerungen an ein konzert
handys        die neuen waffen der technologie
handys        videos statt schüssen in die luft
das bedürfnis des verewigens
thawra
nur vereinzelt bäume auf den flaggen
aber ein wald an menschen
die menschen als wurzeln der revolution
thawra
menschen auf den straßen
menschen hinter den fensterscheiben
vor begeisterung glänzende augen
musik
bauchtanz
enthusiasmus
ein enthusiasmus der ansteckt
ein enthusiasmus der begeistert
schönheit der menschen
schönheit der revolution?
klappernde töpfe
nicht in den küchen
sondern
auf              den              straßen
hoffnung
veränderung?
thawra
über allem spürbar eine ahnung von gewalt
schläge und schüsse
eine taube regierung
eine blinde regierung
sie sind die dunkelheit
wir sind das licht
singt perla joe
gründung von freiheit?
(sagt hannah arendt)
geschlechter               vereint
religionen                   vereint
begeisterung              vereint
thawra
megaphone und sitzblockaden
djs     tanz     trommeln     elektro-musik
berlin?
nein, thawra
menschen  die schreien
 die weinen
 die lachen
du hast den sturz verdient
wir wollen dich nicht mehr
singt perla joe
du bist in unserem herzen
antworten ihr die menschen
beirut, tripoli, hand in hand
endlich ein land?
thawra
und doch:
niedergebrannte zelte
tränengas
schlagstöcke
gewalt
verletzte
schönheit der revolution?
enthusiasmus als ästhetischer begriff
das schreckliche
das erhabene
ein kommendes,
ein neues scheint vor
schreibt gunnar hindrichs
revolutionärer enthusiasmus
thawra
schönheit der revolution?
red clouds of smoke
red       colour of the revolution
scattered hands
flags              faces
nocturnal streets
nocturnal lebanon
they are not going to church
they are going out into the streets
muezzin of the revolution?
pope of the revolution?
man as a dj             he plays                                       revolution
mobile phones       memories of a concert
mobile phones       the new weapons of technology
mobile phones       videos instead of shots in the air
the desire of immortalizing
thawra
scattered trees on flags
but a forest of people
people                roots of the revolution
thawra
people out on the streets
people behind windows
eyes shining with enthusiasm
music
belly dance
enthusiasm
an enthusiasm that infects
an enthusiasm that inspires
beauty of people
beauty of the revolution?
banging pots
not in the kitchens
but
out on              the              streets
hope
change?
thawra
above all a sense of violence
blows and shots
a deaf government
a blind government
they are the darkness
we are the light
sings perla joe
foundation of freedom?
[says hannah arendt]
genders                      united
religions                     united
enthusiasm                unites
thawra
megaphones and sit ins
djs     dance     drums     electronic music
berlin?
no, thawra
people       who scream
who cry
who laugh
you deserve the overthrow
we don't want you anymore
sings perla joe
you are in our hearts
the people answer her
beirut, tripoli, hand in hand
finally one country?
thawra
and yet:
burnt down tents
tear gas
batons
violence
injured
beauty of the revolution?
enthusiasm as an aesthetic concept
the terrible
the sublime
an upcoming one,
a new one seems ahead
writes gunnar hinrich
revolutionary enthusiasm
thawra
beauty of the revolution?